Hanuman Homies offers weekly yoga classes to each individual community listed below to show support for children throughout Dallas/Fort Worth. We couldn't do it without your help!
THANK YOU
Jonathan's Place is a non-profit organization that provides a safe and loving home to children who have needed intervention from the Foster Care/CPS system due to severe abuse and neglect.
Ages: 18 months to 16 years old.
*
We offer Yoga at Jonathan's Place to help the children feel loved and supported in a situation that is unstable and uncertain. We hope to help the children feel grounded in Love if even it is for one meeting or the full three month term they could stay at JP.
POETIC is a non-profit organization that builds a pipeline out of the juvenile justice system and into intensive aftercare for girls who have been exploited and trafficked.
Ages: 12 years - 24 years old.
*
We work with Poetic to help these children feel empowered in their bodies to reclaim their narratives to help them find their voices through Yoga Movement.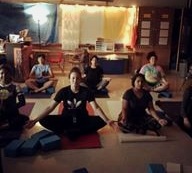 Thomas Jefferson High School
Thomas Jefferson High Sschool is a DISD School located in Northeast Dallas that is classified as a 5A school. 83% of the students are on the assisted meals program.
Ages: 13 years -18 years old.
*
We offer weekly Yoga at Thomas Jefferson High School to help the kids feel grounded in community and wellness regardless of the constant challenges of Life that they face that are unique to their situation. We hope to offer tools to help the kids transcend a state of survival into a state of the SUCCESS that we see in them.